Welcome
Our resort offers on 2 hectares pure spring water from the mountains, well-kept meadows, beautiful fishing spots, the Seestüberl with its terrace by the water and the direct view of the north walls of the Wilder Kaiser. There is also a market square with a farm shop where you can buy fresh products from the region.
We would like to offer the fishermen an opportunity to fish in a pleasant atmosphere, to lead children with their family to the natural product fish and offer healthy, biologically valuable products. Further do we attach great importance to a natural, simple way in the preparation of the meals and we primarily use products from our region, for example fresh salads, mostly from our garden.
We strive to fulfill all of our criteria. But nobody is perfect , we`re only homan, so sometimes a mistake can happen. We would like to know from our guests their opinion an experiece an the Quellfisch Resort and therefore we have set up the contact page. Please write us your opinion, we would like to get in touch with you and learn from each other.

Discover
our business areas

Opening
HOURS

FISHING PONDS
DAILY open, in autumn we keep open until it becomes to cold (in general by october) please ask us at:
+43  (0)5375/6807 for any details.
LAKESIDE RESTAURANT
open 6 days a week (thursday is DAY OFF, exept thursday is a public holiday  than we will have closed on tuesday). Enjoy our fish and meat delights.
FISH vending:
Possible daily at the fishery or in the restaurant.
PARTIES & Festivities
after arrangement with Sabine: +43 676 4237639
MARKET SQUARE
already closed
FARM SHOP
already closed
+43 (0) 5375 / 6807
General
Information

Dear friends of Quellfisch – NatuResorTirol,
we have opened daily from 8.00 am – 6.00 pm
and will have open until the first big cold (mostly at the end of october)
(from november on please call us in advance)
Our lakeside restaurant Seestüberl, with terrace over the lake,
is 6 days a week OPEN – normally closed on thursdays.
If thursday is a public holiday then we close in this case on tuesday.
(we publish it here and on facebook)
We love to host your partys and festivities !
Please call Sabine: +43 676 4237639
In the fishery are available
daily fresh caught fish, whole or filleted and our delicious
smoked trout and fillets from the most diverse Fish from our ponds.
For a HOLIDAY in Schwendt we recommend:
the Feriengut Unterhochstätt , Unterschwendt 21, Tel: +43 5375 64750
or the Schwendterwirt : Schwendterwirt, Dorf 4, Tel: +43 5375 6716
experience it
a few impressions of the last weeks...

send us your photos, we publish them here on our site
be part of it
our events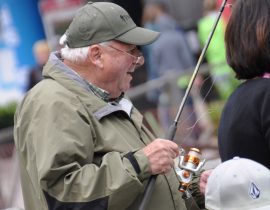 mondays: 65+ day
Quellfisch Resort - Schwendt, Kohlentalstrasse 10-12, A-6385 Schwendt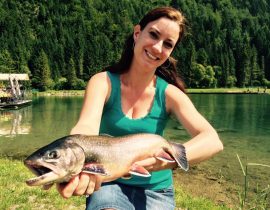 wednesday: women day
Quellfisch Resort - Schwendt, Kohlentalstrasse 10-12, A-6385 Schwendt
On Sundays & public holidays we grill on the lakeside terrace
Quellfisch Resort - Schwendt, Kohlentalstrasse 10-12, A-6385 Schwendt
"

"

We host YOUR party. We organize private parties for YOU, such as birthdays, company parties, weddings, confirmation, first communion etc., also in the evening, just call us at:          +43/(0)5375/6807.

"

"

"

At our marketplace, you can get specialities from our village Schwendt and of course our fish, we also design gift baskets for every occasion according to your wishes.

"

"

"

"My absolute highlight is eating the self-caught fish, which will be prepared in the Seestüberl, on the breathtaking lakeside terrace."

"